UPDATE: Due to COVID-19 restrictions in the UK and EU, AKA Trio would be prevented from coming to perform in Sofia on Dec 1, 2020. The concert is postponed for April 1, 2021. All previously purchased tickets are valid for the new date. Please see Antonio Forcione's message and stay tuned to www.antonioforcione.com for updates and musical treats.
Customers may return previously purchased tickets via the sale channel that was used for the purchase, in the period 1 to 31 Dec 2020. For all enqirys, please contact the promoter via email: info@jazz-plus.com or phone +359 89 560 2782
AKA Trio – an international musical summit meeting of three world-renowned virtuosos: Antonio Forcione, Seckou Keita and Adriano Adewale.
Buy tickets online now:
Italian guitarist and composer Antonio Forcione has been travelling the world for over two decades, releasing twenty albums and collaborating with many major artists along the way, including such names as Charlie Haden, Trilok Gurtu, Angelique Kidjo and the New Bulgarian Voices, amongst many others.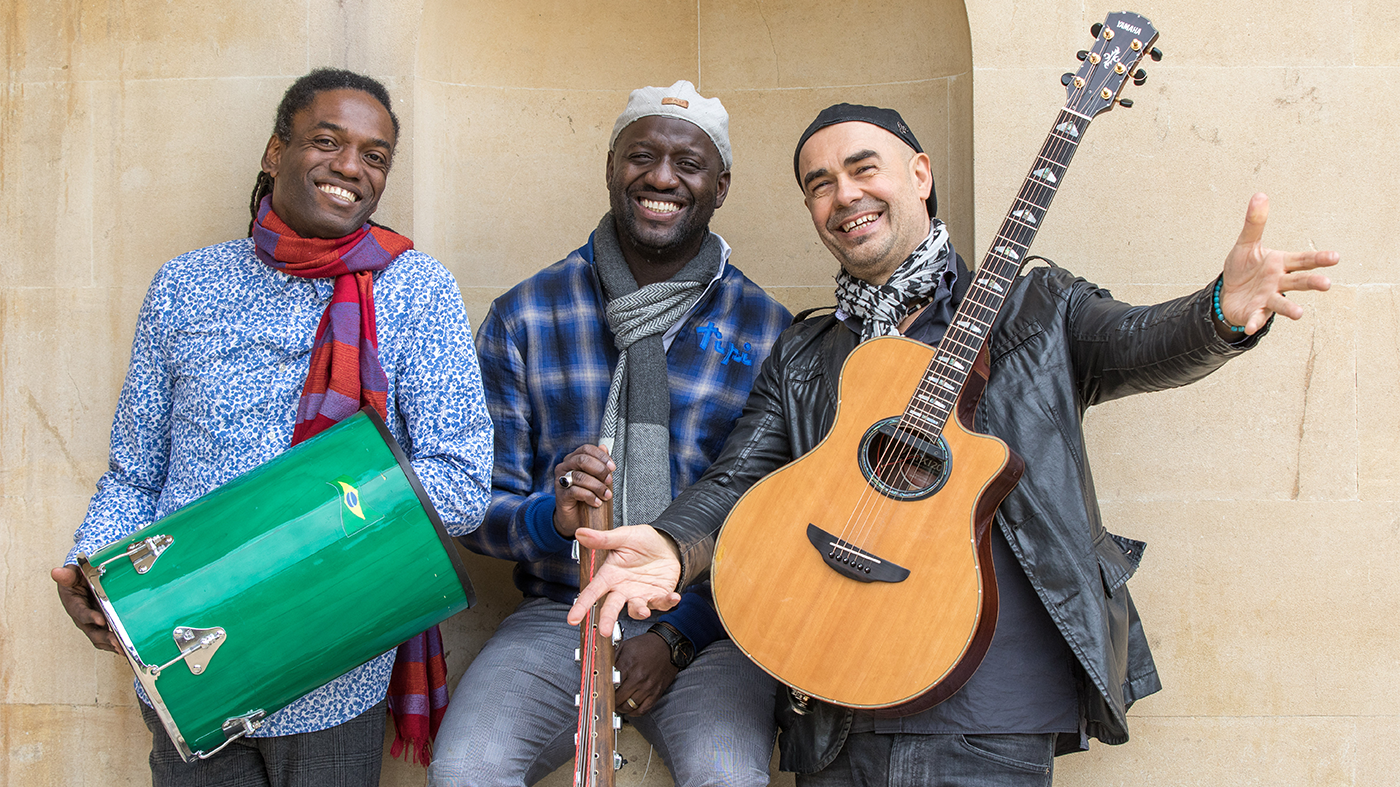 Seckou Keita from Senegal is one of the world's foremost kora players, involved in many international projects including his groundbreaking duo with Welsh harpist Catrin Finch, African Express with Damon Albarn, and his Transparent Water project with Cuban pianist Omar Sosa.
Brazilian percussionist and composer Adriano Adewale has collaborated with Bobby McFerrin, Joanna McGregor and Benjamin Taubkin and has composed music for orchestras and dance theatre. Together they cooperate and coalesce to create a refreshingly original international fusion.
Билети за концерта на AKA Trio от 30 лв се продават в Дюкян Меломан (ул. 6-ти септември 7а), в мрежата на Ивентим и онлайн (тук и на https://event.gg/13376/)
Вижте още концерти, организирани от Джаз Плюс
Албуми на Антонио Форчоне и AKA Trio се продават в Дюкян Меломан
AKA Trio – Antonio Forcione (guitar)
Antonio Forcione is an artist in every sense of the word, hailed as one of the most charismatic, unconventional guitarists at large in the musical world today. With a host of international awards under his belt, this eclectic composer never ceases to stun his audience on stage, leading him to be referred to as the 'Jimi Hendrix of the acoustic guitar". His solo performances never fail to bring the house down, let alone when he is performing in duo, as a trio, or with his quartet of international musicians. He breaks the mould of most conventional guitar sounds, be it in the field of jazz, Spanish, African, Brazilian or improvised music, with a ferocious virtuosity, passion and humour.
He has shared the stage and recorded with some of the world's most accomplished musicians including Charlie Haden, Angelique Kidjo, Trilok Gurtu, Larry Coryell, Diego el Cigala and many more, as well as supporting giants such as Phil Collins, Bobby McFerrin, Zucchero and Van Morrison amongst others.
Most recently Antonio has been touring and recording with the amazing singer-songwriter Sarah Jane Morris wowing audiences throughout Europe. He has also been performing with Spanish flamenco star Arcangel and The Bulgarian Voices choir, touring under the name Estruna.
Over the years Antonio has released 20 albums of largely original material and has performed in festivals and theatres from as far as Australia and Indonesia to the USA, Africa, Canada, Caribbean, Turkey, Lebanon and all over Europe, especially in France, Germany, Switzerland, Austria and the UK. He has performed at numerous charity events and his festival appearances include Womad, Glastonbury, Edinburgh, Melbourne, Koln, Verona, Granada, Hong Kong Arts Festival, Perth International Festival, Singapore Arts Festival, Wellington International Festival, HIFA International Arts Festival in Zimbabwe, Istanbul international Guitar Festival, and the Machoire d'Or in Montreux amongst others.
AKA Trio – Seckou Keita (kora)
Variously described as a 'griot (praise singer), composer, djembe master, virtuoso and pioneer', Seckou Keita is a rare type of musician, seated in tradition whilst constantly pushing the boundaries of his art.
A true master of the kora – a 22 stringed West African harp – Seckou, from the Casamance area of Southern Senegal, was a childhood prodigy, born of a line of griots and kings. Cissokho, his mother's family name, gave life to his talent; Keita, his father's, gave him royal blood. Seckou has graced the international stage since 1996, earning worldwide acclaim for his kora playing and appearing with a host of fellow artists including Salif Keita, Paul Weller, Damon Alban and the Orchestra of Syrian Musicians, Youssou N'Dour, Miriam Makeba and Neil Finn.
His albums Miro (2011) and The Silimbo Passage (2008) hit No.1 in the European world music charts, and Clychau Dibon (2013), the fruit of his collaboration with harpist Catrin Finch, won fRoots Critics Poll Album of The Year 2013, Songlines Magazine Best Cross Cultural Collaboration 2014, and two BBC Radio 2 Folk Award nominations. In 2016 he won the Songlines award for Best Album for Africa and Middle East for 22 Strings. 2017 saw the release of his collaborative album with Cuban Jazz Pianist Omar Sosa, which toured to Japan, France, the UK and the USA. His collaboration with Welsh harpist Catrin Finch, resulted in the award-winning album Clychau Dibon (2013); their much-anticipated second album SOAR released in April 2018 to huge critical acclaim.
Seckou Keita has arguably become the most influential and inspiring Kora player of his generation, an exceptional and charismatic musician and a modern global citizen, living with seven centuries of tradition and heritage expressed through his music. In his recent solo album 22 Strings (released May 2015), Seckou gives us the kora in its purest guise, a wondrous instrument that can soothe the bloodlust of warriors and take the human spirit to a place of deep meditation, stillness and beauty.
AKA Trio – Adriano Adewale (percussion)
Brazilian percussionist/composer Adriano Adewale is a versatile musician and performer, known for his unconventional and exploratory approach to music, and for his ability to create magical soundscapes from the seemingly banal.
Born in Sao Paulo, Brazil, he was for many years known as Adriano Pinto, a colonial name he received at birth. It was after his visit to Africa (Nigeria and Benin Republic) searching for his roots that he changed his name to Adriano Adewale Itauna, respectively from the Yoruba-Nigeria and Tupi Guarani-Brazil. Adewale means royal child who come back home and Itauna means black rock.
Music has always been part of Adriano's life. His father, an amateur percussionist, used to play drums for carnival times, and drumming was also a big feature of family gatherings. Adriano's maternal grandfather used to play Clarinet, his uncle accordion and every weekend they would meet and play 'Chorinho music', a style also known as Brazilian Jazz. Two uncles played a great influence on Adriano's career; Claudio Silva, who was a virtuoso 'Pandeiro' player, and Joao Nicanor, a singer song writer, guitarist and actor.
Whilst working as an actor Adriano took piano and percussion lessons, followed by a adegree/BA in classical music-percussion at the University of Sao Paulo State. In April 2000, Adriano moved to the UK, quickly establishing himself as a respected percussionist, composer, educator and band leader.
In 2002 Adriano was introduced to Italian guitarist Antonio Forcione and soon became part of the Antonio Forcione Quartet which has gone on to perform the world over. In 2004 Adriano went to Africa (Nigeria-Benin) in search for his roots and also to study music with great master percussion players. The trip deeply changed Adriano's playing and understanding of his own culture in many aspects. Upon his return he went on to study further, this time a Masters course in Music/Performance at SOAS – School of Oriental and African Studies in London. His first UK band, Sambura, released the album: Cru in 2006.
In 2008 Adriano released his first solo album, the critically acclaimed Sementes (Segue records) produced by Gilad Atmov. It featured the 'Adriano Adewale Group', an international flutist and saxophonist Marcelo Andrade. line up of musicians, including Australian born double bass player Nathan Riki Thomson, Senegalese Kora player Kadially Kouyate and Brazilian
In 2012 he released The Vortex Sessions, a collaboration with the foremost Brazilian piano player Benjamin Taubkin. This was followed by Raizes (Caboclos records) in 2014, his second solo album with the 'Adriano Adewale Group', produced by the great Chris Kimsin (Rolling Stones, Jimmy Cliff). Adewale is also the mentor behind Catapluf's Musical Journey, a concert which introduces young audiences to Jazz, commissioned by the EFG London Jazz Festival. With one CD released Catapluf's Musical Journey has toured many parts of Europe including Norway, Sweden, France and Scotland.
Adriano's distinctive sounds come from organic materials, connected to nature. They are made out of wood, clay, metal, skins and the philosophy behind it is the connection with the four classic elements: water, earth, air and fire. Playing percussion is about making music. Drums are very powerful, however they do not have to be loud. The idea of percussion has changed dramatically with the great late percussionist Nana Vasconcelos, who is Adriano's percussion master and inspiration. Adriano has many effect instruments, through which he creates mesmerising atmospheres and soundscapes; he paints with sounds, telling stories through music.
Over the years Adriano has worked as a curator and artistic director. From 2009-2010 Adriano was an artist in residence at the Lakeside Theatre, Colchester. He also curated 'Festival Brasileiro', which involved theatre, dance, music and fine arts from Brazil, and challenged presiding conceptions of Brazilian culture. As part of the festival, he arranged for and conducted the Essex Youth Jazz Ensembles. Adriano is currently an artist in Residence at the EFDSS – English Folk Dance and Song Society, where he developed 'Within the Waves', a project for massed voices and percussion performing sea songs and sea shanties from Brazil and England.
As a composer, Adriano has been commissioned by Bath Music Festival to write a new music piece for the opening of 2011 and 2012's Bath festivals. He was also a composer/music director of dance-theatre piece Ballroom of Joys and Sorrows, a collaboration with Kate Flatt (original choreographer of Les Miserables). He has composed for dance companies, including Phoenix dance company 2016, with whom he wrote the score for 'Undivided lovers', a dance piece based on and celebrating shakespeare's 400 anniversary.
Education is part of Adriano's life. He is often writing new music to collaborate with primary school pupils both singing and playing instruments. As part of City of London Festival, Adriano developed a project with children who collected recycling material from the City of London, which was transformed into drums. The children went on to form a procession, playing the instruments with a grand finale with the Umpatacum band, performing in front of St Pauls Cathedral. He also travels worldwide to teach, and recently has been teaching master students from the Sibelius Academy in Helsinki.